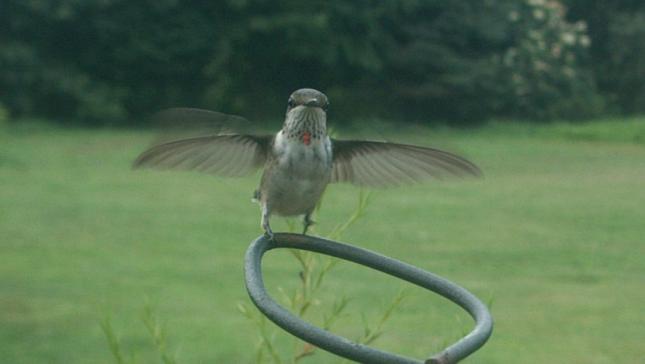 Hummingbirds are Everywhere!
At this time of year you should be seeing numerous Hummingbirds at your feeders and amidst your flowerbeds. The juvenile Hummingbirds are just out of the nest and are swarming like bees. It's a little tricky to determine who's an adult and who is fresh out of the nest. Sometimes when they perch on our feeders I can identify them by their shorter beak and tail. The juvenile male is not born with a full ruby gorget but will appear similar to the female in being gray throughout it's throat and body. The above juvenile male is several week old and is just getting the spots that will eventually turn into the blazed neck that we associate with the adult male Hummingbird. During late July until the middle of September is what we call the peak season for Hummingbirds in our area. Also in August you may see additional male Hummingbirds in your yard as the males tend to migrate first and those birds that nested farther north than us will begin their migration sooner then our local birds.
You'll want to keep your feeders full and your nectar fresh. The 1 part sugar to 4 parts water solution is what is recommended as the best nectar solution. We advise against store bought nectar that contains and chemicals or red dye. No matter how some labels may tout their beneficial aspects our belief has always been that the nectar solution given is the closest to the fructose found in flowers that they like. Keeping your solution fresh is vital to seeing your hummingbirds. In hot weather it's advisable to change your nectar every 2-3 days. Sugar water is a food product that will spoil in higher temperatures. I prefer feeders that have a perch as you can observe the birds for longer periods of time. It used to be that people believed that Hummingbirds could not sit because they had no feet. We now know that they spend about 80% of their time actually perching somewhere. Observe where your Hummingbird goes after leaving your feeder. He or her is probably sitting nearby watching over the feeders. Yes they can become quite protective and territorial of 'their feeders'. I put out two feeders on the same shepherds crook and can get two to land at a time. Enjoy these emerald jewels for like this summer they too are fleeting.