What's the best seeds for your birds?
We at Wild Birds Unlimited take pride in only offering the best foods and seed blends for your birds. Our weekly deliveries and in store rotation of products ensures that our seed is fresh. The seed blends we carry are oil sunflower based as studies have found that sunflower is the greatest attractant for backyard birds. We don't add any fillers such as milo, grain, or red millet. In the winter we do suggest adding white millet, cracked corn and whole corn as a offering to wintering birds. Throughout the year Nyjer and our Finch mix are a great way to attract finches. We also recommend matching the right type of seeds for the appropriate feeders.
The right blend is full of sunflower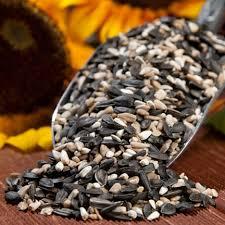 If your seed looks like the mix below you're are not getting colorful birds at your feeders.