Got those Santa blues again. Photo by Kim Steininger
Wild Birds Unlimited of Hockessin, Delaware is where every-birdy goes shopping!
Wild Birds Unlimited in Hockessin, Delaware has been serving backyard birders in Delaware, Pennsylvania, New Jersey and Maryland for over 24 years. We're minutes from Christiana, Bear, North Wilmington, Newark, Concordville, West Chester, Chadd's Ford, Oxford, the Delaware Memorial Bridge/New Jersey and Elkton, Maryland. Put 7411 Lancaster Pike into your GPS and you'll be at our front door in no time at all. You can also look for our neighbor; Harvest Market, Delaware's premier organic grocery store.
Call us at 302-239-9071
Remember there is NO SALES TAX in DELAWARE.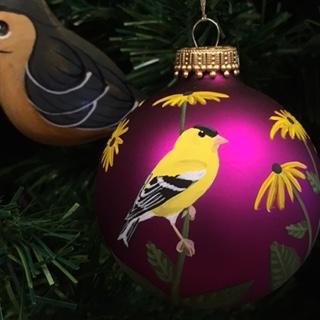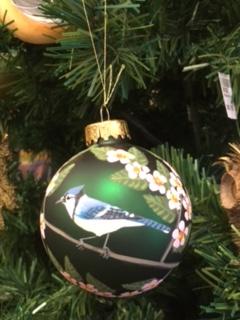 We carry a large selection of hand-painted Christmas Balls by Delaware artist Marcia Poling
At Wild Birds Unlimited in Hockessin, Delaware we're proud of our quality products and knowledgeable staff.
Our premium seed blends our formulated to attract the greatest variety of birds to your yard. We use only natural ingredients high in fat and protein like sunflower, sunflower chips, safflower, Nyjer, and peanuts. Unlike big box-store mixes that are packed with types of seeds that your birds just won't eat, Wild Birds Unlimited does not use cheap fillers like milo and feed grains. Our weekly seed deliveries and rotation procedures ensure the freshest seed possible.
Wild Birds Unlimited's innovated bird feeders are designed for friendly and safe feeding of your birds. Our tube feeders are engineered with 'Quick-Clean' bottoms for ease of cleaning. Our Hopper feeders are built out of recycled plastic material and come equipped with removable trays. We also carry a variety of squirrel-proof feeders to stop their pillaging, and make your bird watching more enjoyable. Our APS Pole System is like Kinex for adults. Our pole can be built for a particular height. You can have over 4 feeders on one pole and add accessories such as a suet feeder right to the pole. Better yet you can protect your feeders with baffles that will deter squirrels and raccoons. Wild Birds Unlimited has lines of specialty feeders for attracting Hummingbirds, Orioles, and Woodpeckers. We have the greatest selection of bird houses around; from Wrens to Purple Martins to Wood Ducks we've got the housing they need. Choosing optics can be difficult by carrying a proven selection from Eagle Optics and Vortex you can choose what's best for you and your eyes. If you're looking for a new pair of binoculars stop by and test drive a pair.
Our staff is committed to customer service. We want you to purchase what will work for your backyard habitat. Ask any of the Certified Bird Feeding Specialists on our staff and they'll be more than happy to assist you in making the right decision. We want you to purchase what works best for your backyard habitat. Visit us today and found out why everybirdy loves Wild Birds Unlimited in Hockessin DE.
Our store in Hockessin DE is not affiliated with any other individual Wild Birds Unlimited store.
All Wild Birds Unlimited's are independently owned and operated.
All offers and sales on this website are our own and not applicable at any other Wild Birds Unlimited.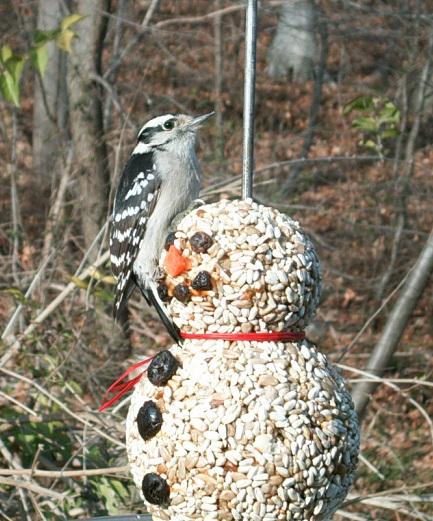 Like us on Facebook. Post photos, ask questions find about our events.