We three seed critters are singing our carols at
'Wild Birds Unlimited of Hockessin Delaware'
We are Delaware, Pennsylvania, New Jersey and Maryland's largest Bird Feeding store. We carry the greatest selection of Bird feeders, birdseed, birdhouses, birdbaths and nature gifts on the east coast.
Our holiday store hours for the week of December 15 are as follows Monday to Friday 9 am to 7 pm;
On Saturday the 20th we'll be open 9 am to 5 pm. On Sunday the 21st: 10 am to 4 pm.
On Monday and Tuesday December 22 and 23 we will be open from 8 am to 7 pm.
We will be closing at noon on Christmas Eve. We will be closed for Christmas Day and reopen at 10 am. Have a safe holiday.
For over 20 years DELAWARE, PENNSYLVANIA, NEW JERSEY AND MARYLAND Birders have been flocking to Wild Birds Unlimited in Hockessin Delaware. We carry a complete line of all types of bird feeders and bird foods to attract every bird. From Finches to Jays to Woodpeckers to Bluebirds to Wrens we can show you the new and innovated products to invite the birds to your yard. We can help to dissuade those crafty squirrels with a squirrel-proof feeder or with our amazing pole system and baffle. Bird houses? Whether it's Bluebirds, Owls, or Purple Martins we have the box for you. We carry regionally formulated seed blends to attract the greatest variety of birds to your yard. We have a complete line of exclusive food products to treat your birds and you to a show. So hummm on over and visit us. The List goes on: Bird Baths, Binoculars, Spotting Scopes, Nature Jewelry, Field Guides, Kids Books.... and so much more. If your unsure what your favorite birder already has then consider giving them a Wild Birds Unlimited Gift Card, redeemable at over 200 stores across the US and Canada.
Wild Birds Unlimited is located on the corner of Lancaster Pike (rte.41) and Yorklyn road. From Pennsylvania coming south on Route 41 at the second light in Delaware take a left then an immediate left into our parking lot. We're between Hockessin's premier organic grocery store Harvest Market and Hockessin Wine & Spirits. Call us at 302-239-9071 for directions.
** FREE used bird feeders are available to non-profits, schools, Day Care centers and nursing homes. Call the store and ask for Charles. Also ask me about free bird talks for your group or school.
Like us on
Facebook; post your photos, ask questions and follow all of our friends be they feathered or furry.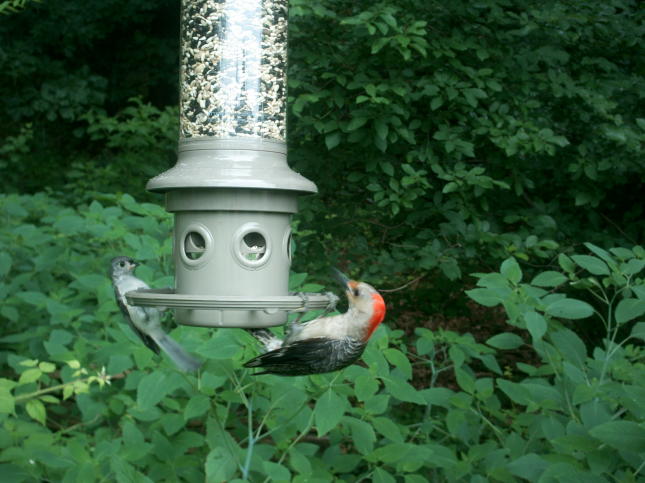 All birds agree the Eliminator bird feeder is the best squirrel-proof feeder on the market.
I've got those Santa Blues Again.
Photo by Kim Steininger