Welcome to Wild Birds Unlimited-Hockessin DE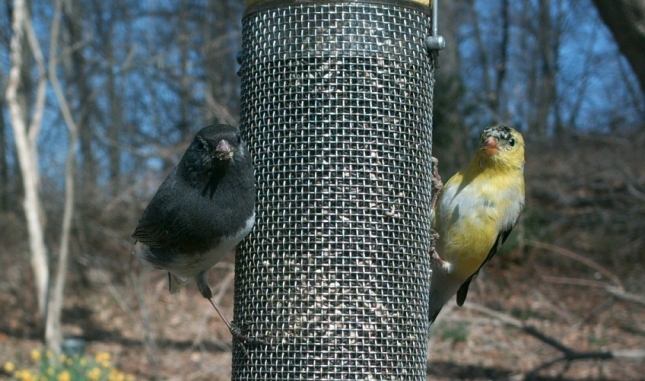 Seasons are changing. Soon your Juncos will depart and your drab finches will molt into their summer coats.
Wild Birds Unlimited in Hockessin Delaware is your home for quality bird feeding products. We carry hundreds of bird feeders to attract everything from Hummingbirds to Pileated Woodpeckers. With our selection of squirrel proofing methods of foods, feeders and pole setups we can find ways to deter those pesky critters. We carry birdhouses to accommodate Wrens to Wood Ducks. We carry a goodly variety of binoculars that work for all aspects of bird watching. We also pride ourselves in carrying a nice selection of nature gifts that are either US Made or Fair Trade purchased. In all honesty a website can not do justice to what we have in our store. Seeing is truly believing. So we invite you to visit our Wild Birds Unlimited in Hockessin DE; minutes away from anywhere you are 7411 Lancaster Pike, Hockessin DE 19707. 302-239-9071
Keep your feeders filled for migrating birds like this Chipping Sparrow. A variety of foods like seed, suet and bark butter can entice wayward travelers.