Bags to Benches - Where Seed Bags Get a New Use
Plastic and it's associated waste is a concern for everyone. At least it should be.

No matter how much joy and comfort feeding the birds is there's still that empty bag when you're done. Wild Birds Unlimited Hockessin takes this issue seriously and have partnered with Eco Plastic Products of Delaware. to recycle our bird food bags into viable products. Eco shreds our plastic bags, melts them, adds color and pours it into forms. From this end product they make park benches, picnic tables and garden boxes. The park bench pictured above is equal in weight to 18,000 grocery bags or 600 Wild Birds Unlimited seed bags. As Jim at Eco Plastic told me the full circle for recycling is remaking it into something new and useful. We hope you'll take part in helping this local non-profit manufacturer and our small business make a difference in our corner of the world!
You can return your Wild Birds Unlimited bags to our store. At this time we are only accepting our seed bags. We are not set up for taking any other plastic waste. Please take your other plastic to a recycling center or have your waste hauler recycle them. You can also take plastic waste directly to Eco Plastic Products on Thursdays ONLY.
20lb & 5lb Bird Seed Bags

Bark Butter Bits bags

Fiery Feast & Sunfire Chips Bags

Dried Mealworm bags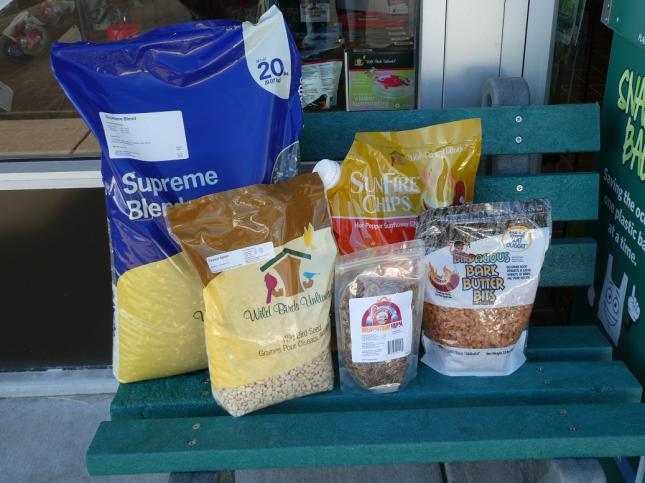 These bags will be chopped up, melted down, and made into recycled plastic benches and tables that can be bought or donated to local parks, libraries, etc.
How cool is that? If you're interested in purchasing or donating a plastic bench or picnic table, please visit Eco Plastic Products Of Delaware's Product Page