WBU Hockessin Partners in Conservation and Community

Charles and Kathy Shattuck being named Fellows of the Delmarva Ornithological Society 2018

Charles and Kathy were honored to receive the Outstanding Wildlife Leadership award from Tri-State Bird Rescue 2017

Charles and Kathy were named Outstanding Conservationist by the Brandywine Red Clay Alliance 2016
Community at Heart
The next time you make a purchase of bird feeding supplies or anything else ask yourself 'How much of your dollars are going back in to your community or causes you believe in?. At Wild Birds Unlimited in Hockessin, Delaware we don't hide behind these brick walls. We take part in making the community we live in a better place. We partner and support many local organizations and causes that are dear to our hearts. We hope you'll help them and the missions they uphold.
Thank You, Charles and Kathy Shattuck
*Members* of the above WBU-Hockessin partners receive 10% off all bird feeders, houses, gifts, and other products, excluding optics, chocolate, and bird foods. Not to be combined with other discounts. Please present membership card at time of purchase.
Wild Birds Unlimited in Hockessin is also a member of the Hockessin Business Association.
Find out more about Hockessin by visiting Destination Hockessin on Facebook.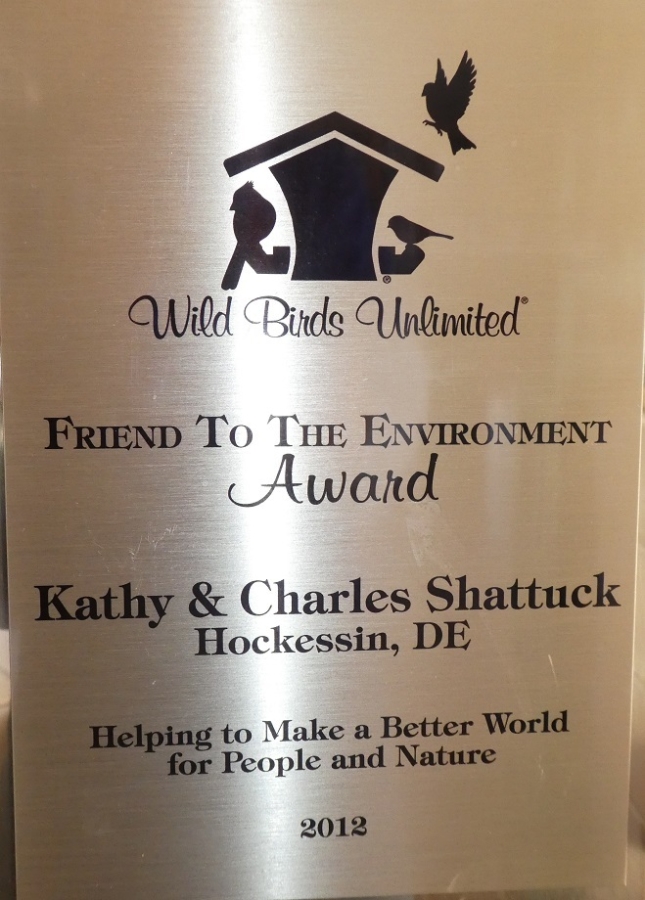 Charles and Kathy were given the Friend to the Environment Award by Wild Birds Unlimited Corporation in 2012