All About Bluebirds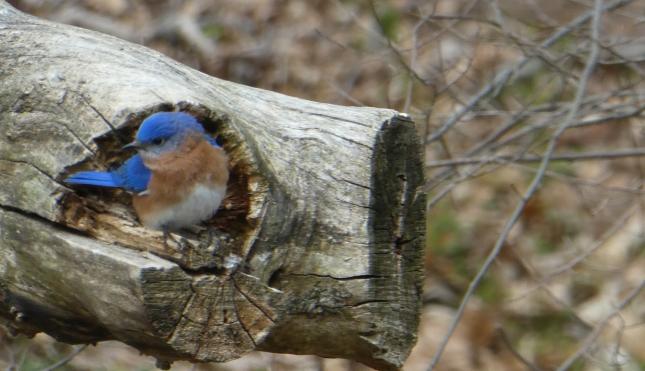 All About Bluebirds
Bluebirds are one prettiest birds in any backyard. Over the past few decades their numbers have risen and they've spread throughout neighborhoods where previously never seen. In the 1960's Bluebirds were hardly seen in Delaware or Chester County. The land was mostly farm fields with scattered wooded areas. Through the efforts of bird lovers and organizations installing birdhouses and setting up Bluebird Trails they have come back. Each winter will get a phone call from a customer saying they've lived in their house for 20 years and have never had a Bluebird in their yard. They are truly the Bluebird of happiness of song and poetry.
Bluebirds live here year round.
Bluebirds will eat insects, fruit, seed, and suet. They can find this naturally and will readily avail themselves to food at your bird feeders.
Mealworms (live or dry), sunflower chips, No-Mess seed blends, Bark Butter Bits are just some of the foods you can set out for them. A Bluebird can not crack the shell of black iol sunflower. They like softer food items.
Bluebirds begin nesting in early April. They will use a birdhouse with a 1 and 1/2 inch hole size.
A Bluebird box should be placed in a lawn area about 15 feet off a tree or tree line.
A Bluebirds nest is very neat and is constructed of all grass or pine needles.
Bluebirds can have 2-3 nests per year. With 4-6 eggs in a clutch.
Incubation is about 15 days with fledging happening at 18-21 days.
After fledging the parents will feed the young for several weeks until they are full grown. If you're lucky they'll bring the young to your feeders.
Bluebirds tend to disappear in late August as there is plenty of natural foods to be found.
In winter you can expect to see flocks of Bluebirds from 4 -15 birds at your feeders.